February 3, 2020
Roam features that have changed the way I take notes
I was sceptical of the hype around Roam, this tool for "networked thought", because it sounded like the selling point was being able to insert links between pages — something I've been doing in Quip for years. After reading Nat Eliason's Roam write-up I gave it a shot, and I've discovered four features that make it quite different from other note-taking tools.
I've found myself writing a lot more since I started using it. Previously when I wanted to write something down, I'd either do it in some journal app, or in some very specific Quip document with only three lines of text. In both cases, whatever I wrote would probably never see the light of day.
Roam fuses journaling and note-taking, and allows snippets of content to belong to many notes at the same time. Because of this fluidity I use the "Daily Notes" section as a dumping ground where I feel fine scribbling any random thing down, but because I'm using tags and page references as I go, the pages I'm referencing are becoming quite organised places full of ideas, research, and thoughts.
The Daily Notes section is also a vertically scrolled feed, so I'm accidentally reviewing my notes as I see stuff pop up in my peripheral vision.
Here are the features I like:
1. Daily Notes
Roam bakes in this idea of "Daily Notes" which is a vertically scrolling stream of notes, each titled with that day's date.
I use this as a dumping ground for random thoughts, ideas, and anything that piques my interest throughout the day. The key is making sure things are properly tagged or linked to other pages, which leads me to the next feature.
2. Tags are themselves
"

pages", and pages don't need to exist before you reference them

What you would think of as a typical note (i.e. a heading and some content) is called a "page" in Roam, and everything in Roam is a page. Every Daily Note, pages you create manually (obviously), but most importantly tags are pages, too. They don't even need to exist before you reference them. If I write #iOS in one of my daily notes, I have created a link to a new page titled "iOS" to which I can add more content later.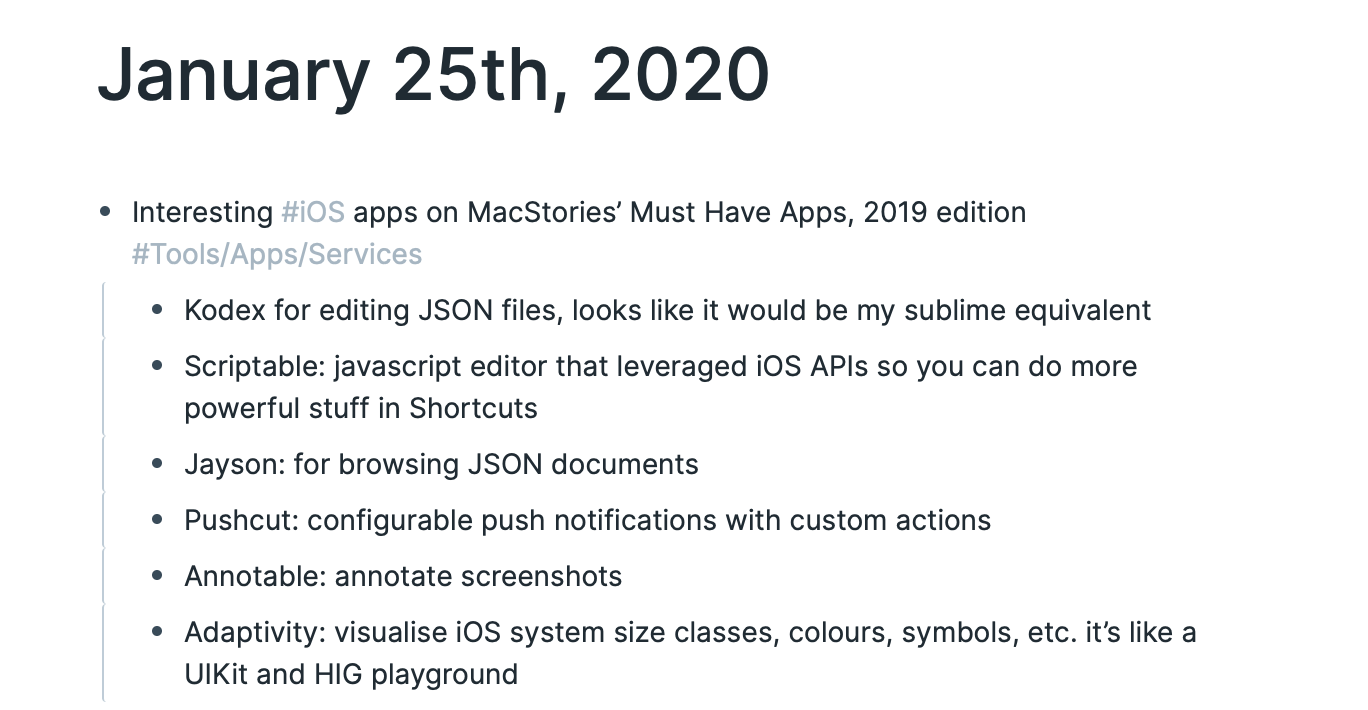 When I use the tag #iOS in a daily note, I'm referencing a page, even if it doesn't exist yet
The same thing works for dates: I can use the /date picker command to insert a reference to "March 19th, 2020", which will create a reference to a Daily Note from the future. I've used this feature for lightweight reminders, because the tagged line of content will show up on that future daily note as a linked reference. That brings me to the next one…
3. When you reference another page in a block of content, that content shows up on the referenced page
When you use tags (#OpenStreetMap) or page references ([[Bugs reported to Apple]]) to create links to other pages, your content shows up as a "Linked Reference" on that other page.
For example, here is my iOS page: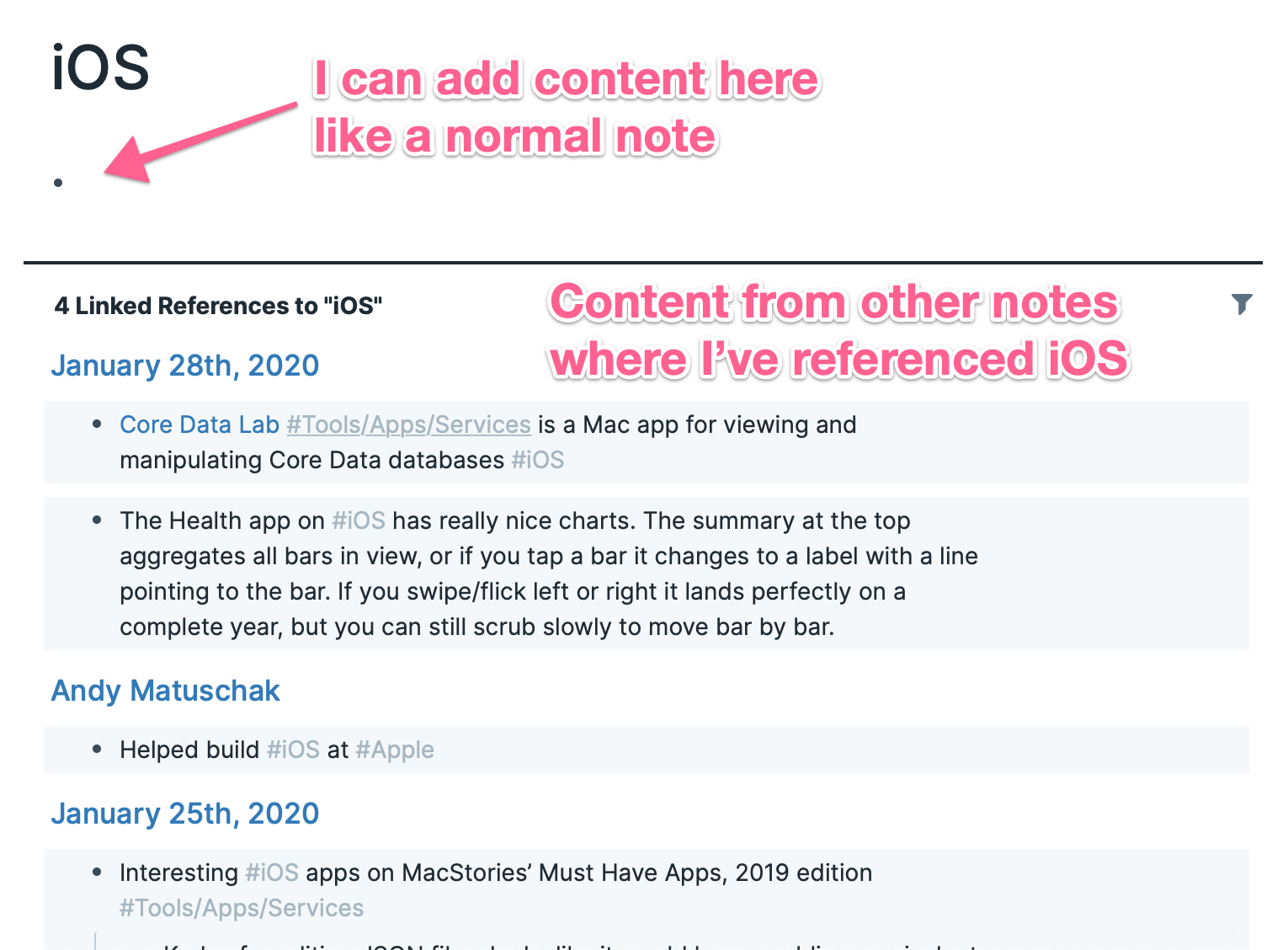 My iOS page in Roam with all of the content that references it
I like that it includes the full block of content, not just a link to the other page. Some of my most content-rich pages have no actual text written in the body — they're just made up of all the blocks in the "Linked References" section, pulling details in from other notes.
Below the linked references there's also an "Unlinked References" section which pulls up all the places you've mentioned the page's title but haven't included a tag or page reference. This makes it super easy to link your ideas and notes together, often surfacing things you'd forgotten you'd written.
4. The Sidebar for opening notes side-by-side
If you hold Shift while opening a page, it opens in a sidebar to the right of your main page. This allows you to quickly look something up or jot down a side thought without disrupting your flow on the main page.
For example, as I've been using Roam and encountering great features, bugs, or things for the wishlist, I've used the sidebar to pull up my "Roam" page to note them down, then quickly jump back into whatever else I was doing.
My mental model when using Roam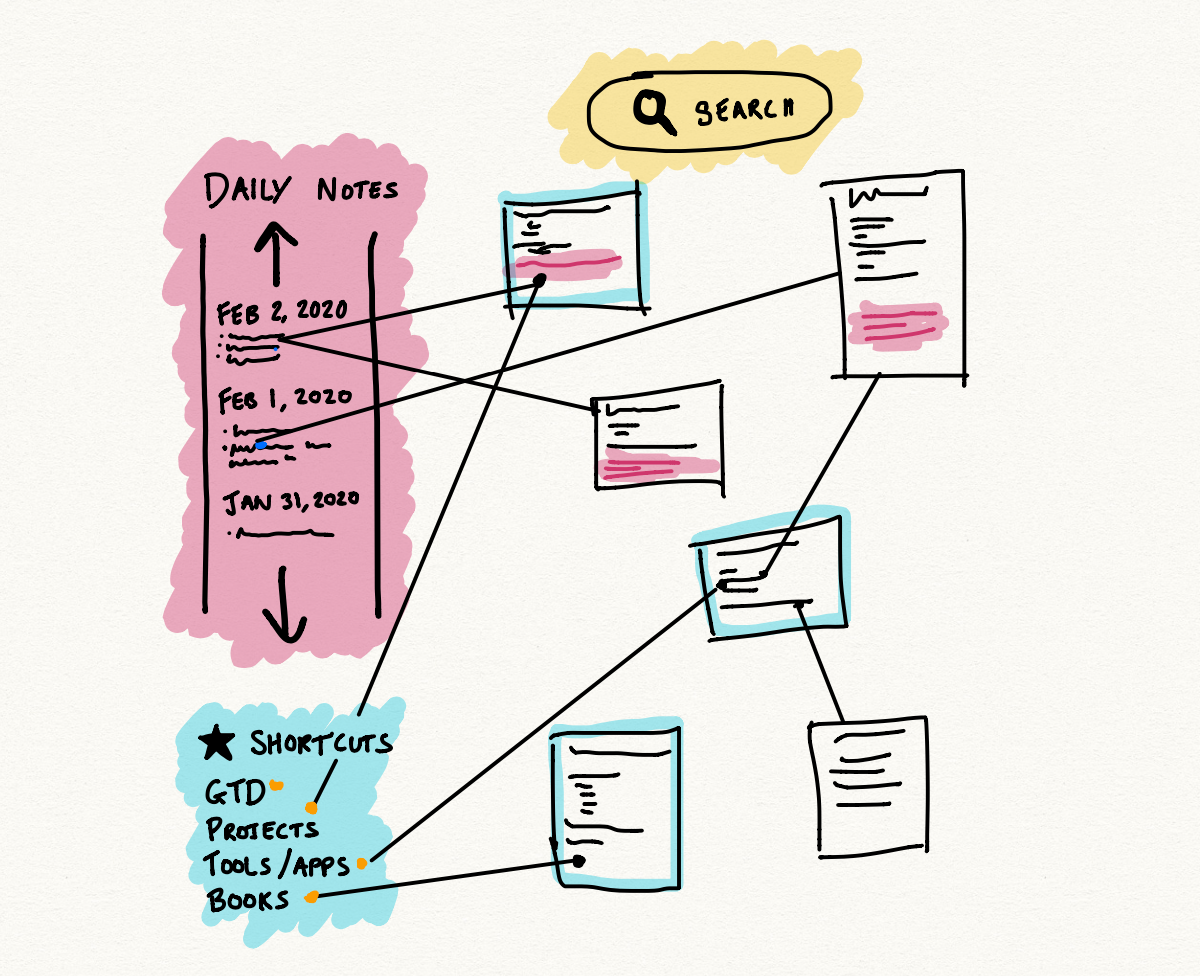 My mental model of Roam
I have this picture in my head when I use Roam. I have a big pile of "stuff" off to the right, stored as pages, with three main ways of accessing and adding content:
In my daily notes, I can link and add to other pages by referencing them in a tag or page reference.
The Shortcuts (in the left-hand sidebar of the app) provide quick access to my most frequently visited pages - things like the list of projects I'm working on and my To-Do lists.
Everything else can be accessible through Roam's very quick full text search.
There are a lot of other nice features (shortcuts, embedding of rich content like tweets) and I still have a long wishlist of features (native mobile app being the absolute number one), but I think at its core it's the first note-taking tool I've found that really gels with how I think, research, and take notes.
---
Previous post
So long Apple Music, back to Spotify
Next post
Turning webpages into EPUBs on iOS using Scriptable, Shortcuts, and EpubPress